Notes on "Inn":
I was all set to write the honeymoon story set at Christmastime in Washington, DC, and then "Omicron" reared its ugly head and the Smithsonian shut down half their museums. Then the penitentiary called and I was off...
Some of what happens in the visit to Declan Gage was taken from when my mother was dying and she'd have her good days and her bad. Thakfully she had no "phantom lamp" hallucinations.
"Pennsylvania Pantry" is the name of one of the sponsors at radio station WENN on Remember WENN.
My husband tried "turkey with filling" in a Pennsylvania restaurant back in 2009. It's indeed made with mashed potatoes.
I'm guessing "Joelle" needs no explanation except my reluctance to use a real store name. (Ditto PetHaven.)
I never did fit the name of Ana's lamb in. I called it "Trebol" ("Clover"). BTW, all my Spanish translations came from Google. Apologies to anyone Spanish if they've come out slightly mistranslated.
My husband's been in the hospital enough times since 2016 that all of Mrs. Diaz' complaints are taken from life.
Colonial counterfeiters indeed courtesy the October 2021 issue of one of my favorite magazines, "Early American Life."
The farmer's market is a fanciful combination of the old Highland Orchards complex in North Scituate, RI; Panorama Orchards in Ellijay, GA (home of the heavenly blackberry spread); and a farm store in Guilford, CT, that James and I stopped at in November 2004 on our way to visit my mother. ("Elf trees" are courtesy one year at Kroger.)
Damn, who doesn't want a boss like Penelope Saltonstall?
The Ojo de Dios turn out to be Chekhov's gun in this story. :-)
The clerk, Bobby, Alex, and Bandit...probably my favorite scene to write. I do have a bird with a lame foot, but his name is Snowy, and he looks exactly as Bandit is described. Bandit as a name is borrowed from our other harlequin pied budgie, yellow and green, who we had from 1995 to 2004, and who was the mascot of the Remember WENN chat group.
One offsight cameo from Gil Grissom...
Our friend Tony is a truck driver and has a black and white "tuxedo" cat named "Skunk" who travels with him.
And I would love to spend New Year's Eve at the Waterbury Inn exactly as described (except that it doesn't exist). The "Ingersoll Ballroom" was so named because Waterbury historically is famous for its clocks and watches.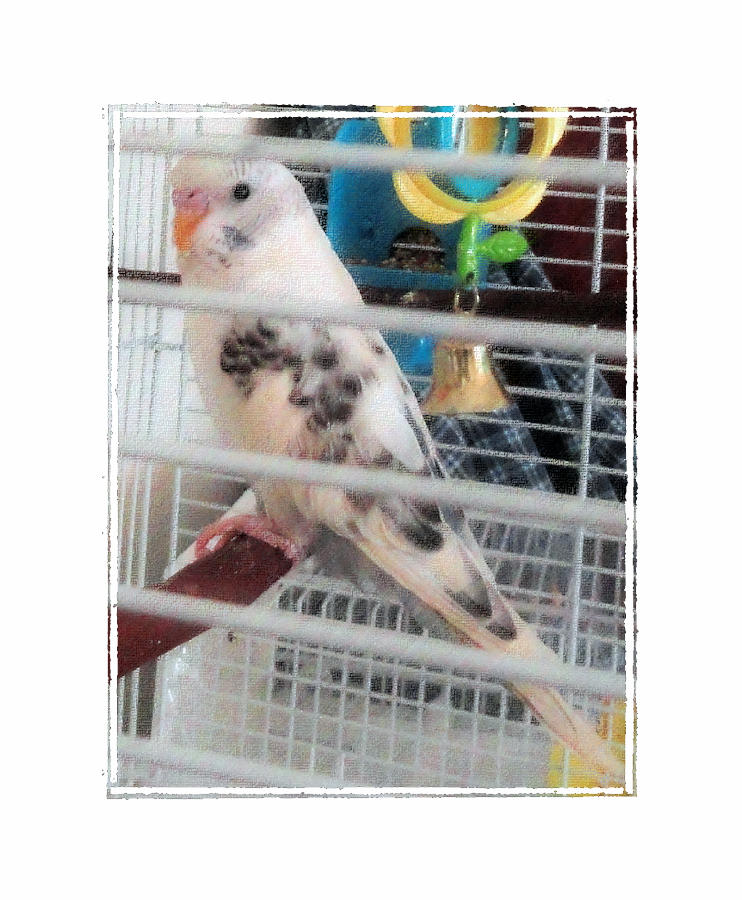 Snowy, Bandit's prototype